Including EveryStudent.com in Your Campus Plan
God is working through EveryStudent.com in phenomenal ways. Each year millions of people from around the world visit the site. Each day about 2,000 people indicate that they've placed their faith in Jesus. There's a name and story connected to each of these numbers. Each represents a heart God is pursuing.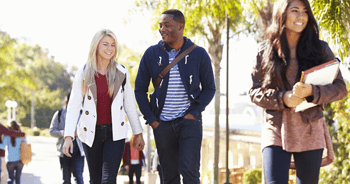 There's also a simple correlation: the more people that visit EveryStudent.com, the more people who place their faith in Christ.
Imagine if EveryStudent.com hit its stride in your location. Imagine how it would build on what God is already doing so that many more students and faculty hear the gospel, place their faith in Jesus, grow in their faith, and are sent on mission to their peers. Below are some ideas for working EveryStudent.com into your campus plan. These ideas could make all the difference in students and faculty connecting to Jesus and his mission without a ton of energy on your part.
Students and Faculty Hearing the Gospel
Help your students and faculty become familiar with EveryStudent.com. Ask them to click around the site. Look at the menu pages. Read some articles, watch some videos. After that, each week send them one article or video and discuss it together. They will gain spiritually from it, and it will help it come to mind in conversations with those who don't know Jesus yet.
Reach students through Instagram or Facebook. EveryStudent.com articles and videos are being posted here on FB and IG. https://facebook.com/everystudent and https://instagram.com/everystudentcounts You could repost those on your local Cru FB, IG pages.
Promote the post, reach the campus. Local Cru pages are business pages, allowing you to "promote" that post each week, running it as an ad to all the students on your campus. This becomes a steady, ongoing way to give students on campus an opportunity to find answers to their spiritual questions and hear how they can know God. Each week, spend $5 or $10 to spread the gospel broadly on your campus. Students will see the post as coming from your page, allowing them to DM you about it.
Add EveryStudent.com to your gospel conversations and outreaches. Invite students or faculty to check out EveryStudent.com during or at the end of a gospel conversation. Give them an EveryStudent.com business card or send them a link to EveryStudent.com. If the conversation focused on a particular topic, find a relevant article from EveryStudent.com and text or email it to them afterward. It adds value to the conversation for them, and it provides you with more than a one-time connection.
When you're doing an outreach on campus, mention EveryStudent.com at the end. You can say something like, "Tonight's conversation probably brings up questions for you. We want to point you to EveryStudent.com, which has a lot of great resources to help you continue to process what we've talked about tonight."
Do a Splash Campaign. Put "EveryStudent.com" in front of all the students and faculty on campus in a way that they can't miss. This Orange and White Splash Campaign has proven effective enough that advertising professors talk about it! Posters go all over campus. Fliers handed out to match. And t-shirts where 100-400 students are wearing them as "walking billboards" on the same day(s). Achieve the same effect digitally with IG ads and students posting to their stories
Build
Use "The Spiritual Starter Kit" when someone trusts Jesus. Once students or faculty begin a relationship with God, invite them to sign up for "The Spiritual Starter Kit" at StartingWithGod.com, the companion site to EveryStudent.com for helping people grow in their Christian faith. We're used to having a gospel conversation, seeing someone trust in Jesus, and seeking to schedule a follow-up conversation for a later date. What if new believers could start growing right away, before we meet with them again? They can with "The Spiritual Starter Kit."
Use StartingWithGod.com to compliment your efforts to ground young believers. There are so many great resources like "Skip the Stress" for believers who aren't seeing freedom or power and need to understand the role of the Holy Spirit in their lives, and "Gospel of John" to know Jesus better and learn to notice what Scripture says.
Show the site to involved students and faculty. Use the articles at EveryStudent.com to help ground them in responding to topics like evidence for God's existence, why Jesus is unique, and why hard things happen.
Send
Train your students and faculty to use EveryStudent.com in conversations with friends and classmates. Actually, the training can happen for you via "How to Talk about God" at StartingWithGod.com.
Invite students and faculty to share EveryStudent.com posts on their Facebook or IG feed or story. It's a great way to help them be public with their faith and multiply the reach of the gospel through their lives.
These ideas are just some of the ways EveryStudent.com could be a part of your local plan to connect students and faculty to Jesus, help them grow in their faith, and send them on mission with him for the rest of their lives. Remember the correlation: the more who visit EveryStudent.com, the more who place their faith in Jesus. Here's to that happening on your campus!