Orange & White Splash Campaign
Put "EveryStudent.com" in front of all the students on campus in a way that they can't miss it. This Orange and White Splash Campaign has proven to be very effective – advertising professors talk about it!!
Posters go all over campus. Fliers handed out to match. And t-shirts where 100-400 students are wearing them as "walking billboards" on the same day(s).
Here's an old promo video, but it will show you the impact of this Orange and White campaign (formerly the Red and White campaign).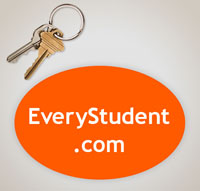 (1) NEW! Paper stickers
No vandalizing! Use on bookbags, notebooks, and other personal objects.
Go here to order - free shipping.

(2) NEW! Vinyl clings
For car windows, dorm & apartment windows.
Go here to order - free shipping.

(3) Simple orange & white posters
Put them around campus, in dorm windows, yard signs, car windows, shops near campus.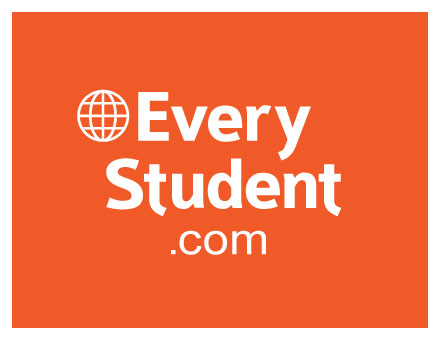 (4) T-shirts - Here is where you order tshirts - ask for an orange background for this splash campaign: t-shirts. Works great when many students wear the shirts on the same day.

(5) Other Posters - 9.66" x 9.66"

(6) Fliers - Print 4 to a page, cut, hand out! (8.5" x 11")

(7) Banner - And, you can easily have a banner made at a Kinkos or any sign shop. Just give them this URL: https://www.everystudent.info/c/banner.html
(This is a 10' x 2' banner, but they can make it any size, easily.)