Two Ideas for Your Church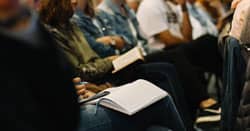 The Internet has brought dramatic change to nearly every industry...shopping, business, news, entertainment, travel.
Are churches lagging, missing opportunities?
There are easy ways you can meet the needs of thousands. Two ideas we'd recommend:
1. Give your church members an evangelistic website they recommend to nonbelievers.
Mentioning a website is low risk. We recommend EveryPerson.com. Everything on the site is worded to nonbelievers. Literally thousands of people each day begin a relationship with God through it.
Put a link to EveryPerson.com on your church's website.
Help church members become familiar with the site by taking 10 minutes in their small groups to click through the site.
Have stacks of business cards to EveryPerson.com that people can grab and carry with them for quick conversations.
Additional tips: The Ripple Effect free e-book; 27-min video to guide you.

2. Offer a digital growth path for new or struggling believers.
StartingwithGod.com could be a great resource to offer from your church's website.
Let people get a free email series: for new believers, or to understand how to trust God, or how to share Christ with others, or how to grow in love with Jesus more through the Gospel of John. All of these, offered on StartingwithGod.com, can be offered from your church. Email us to find out how.
Both of these ideas will equip and release your church members to have a huge impact in the lives of others.