The Findables
A series for believers who want to help make Jesus "findable" to millions of others.

Signup page: https://www.startingwithgod.com/findables/

Messages in it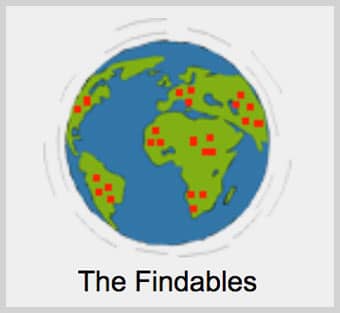 These are ongoing messages, an ongoing relationship with The Findables. Emails to The Findables are from Marilyn Adamson, director of EveryStudent.com and StartingwithGod.com.
The messages generally fall in these categories:
Encouragement for your faith, from the Bible.


Ways God has led me in my personal life.


Ways the Findables can help make Jesus "findable" to others.


Reports of how God is using EveryStudent.com and The Findables.

Why it is unique:
The Findables is a community committed to Jesus, to growing to know him better and to help others know him. There are over 6,000 Findables, from over 170 countries around the world.
This map shows the countries where the Findables are located. (Each country where there's a Findable gets a dot.)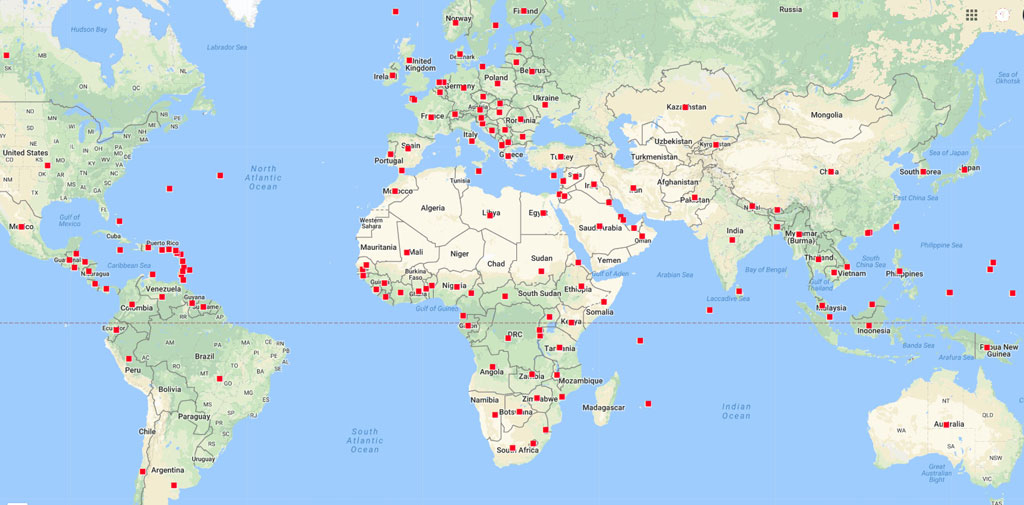 The Findables are often using EveryStudent.com, StartingwithGod.com and the email series in reaching out to others. They are sharing in social media, at work, on subways, with friends and family, and in their churches.
Ministry has become easier, broader, more exciting.
If you have not signed up for The Findables, here is your invitation:
https://www.startingwithgod.com/findables/

What The Findables have said:
This journey with your series has left an indelible mark in my soul and I hope to use it to bless other souls just as you have done. God bless!
The Gospel of John study is really helpful for us. We are in Saudi Arabia and every Monday we are having bible study in our accommodation. Thank you God for giving me a friend who can increase my knowledge about our Lord Jesus Christ.
EveryStudent hugely enhanced my faith in God. The Findables is truly inspirational and focused. With love and appreciation!!
I have put the everystudent.com url in my closing email profile so that people will see it. I use it whenever I am in a discussion with others. It's been invaluable. The articles are so well written.
I am sharing the site in my WhatsApp group here in India.
God still using us to reach people through everystudent.com in Malawi. Without this, I would have not known Jesus Christ to be my personal savior.
Am writing to sincerely thank you for how far you have brought me spiritually. I was unbeliever but now I know and I have Jesus in my life; he is my director in all ways. Am now one of the findables and will like to to help others also be findables in Jesus name.
I am one of the findables in kenya whom you have tremendously touched. i have indeed learned a lot. I am also sharing the word and exposing many in karatina university.
I became a member of the Findable only last year. Am hoping to win more souls for Christ as am standing in now as an ambassador for Christ.
Thank you for including me in The Findables. My passion and hunger for this year is to evangelize and disciple more new believers by the grace of God. These teachings will equip me to fulfill the call.
Thank you very much for your tender love and support for me and others. The emails you are sending me I also send to christians. I also share with them in facebook and whatsapp and twitter and linkedin and Bushiri Buzz. I also ancourage people to get the every student app in Android and Apple.
I love your e-mails! Thank you for putting your heart and your real-life situation out there. I find you to be very relatable and your websites have really helped me in my walk with God.
Jesus Christ must be made known Worldwide as Lord and Saviour. Let me congratulate you for guiding me on how to utilise the resource of Everysudent.com for fulfilling its major vision and mission which is based on saving others from perishing.
Thanks for the link to the ebook, The Ripple Effect. "Ministry by Mimcry." God bless you for making all your ideas so commendably practical.
My sister and I were talking the other night about God and I told her all about how I had recently found Christ and how much the website and email series helped me build a relationship with him and I showed it to her and she signed up for the Adventure Pack.
I am so happy when I see how my relationship with Jesus is growing day by day. I have enjoyed emails for almost two years and the benefits are many. I am also trying to reach others by sharing with friends through face to face and social media. Thanks to The Findables.
I am a Findable and I have made the website EveryStudent.com known to many friends and relatives. I also share some articles and videos and this is really effective. As a school teach I also talk to fellow teachers, villagers and children and make them realise the existence of God and how he influences our lives. I live in a remote part of the country but I am trying my level best to penetrate into the area making God known.
So this weekend my friend was texting me and telling me how he didn't believe in God. I got your Findables email last night about how we can impact a curious person by just directing them to everystudent.com. Before I went to bed I sent him the link to the website and told him to type any/every question he had on the website. This morning, I woke up and saw a message from him so excited and glad about all the articles he read. He said that he loved how science was incorporated to show that our world is too complex to come about by chance. He's so excited about his new found faith and realisation. I'm going to ensure he starts the spiritual starter kit now! It's amazing how contagious the Gospel is! I'm so amazed at what it's done for him! I'm so excited and had to share!
You truly help my hope, faith, and love in God be steadfast. And your articles give me more knowledge about who really God is and how God loves us so much. It also makes me understand what our life is all about..to glorify Him alone!!! Thank you!!!