Gospel of John Series
To help people know Jesus better and develop a habit of noticing what Scripture says.
Titled: "Knowing God Better – a study in the Gospel of John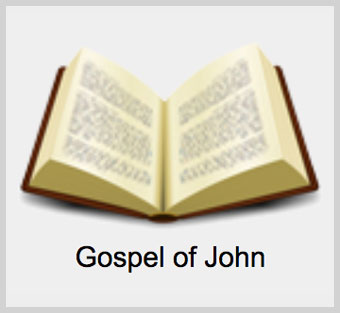 It is a free series of 36 emails, each delivered a few days apart. Many people get to the end of it and send comments like, "Could I unsubscribe and go it again?" Or "I am so sad this is ending. Do you have another?" Or "I am leading our entire church through this."
There is nothing to "turn in." It is for the person's own study. If they have a question, we invite them to email us and we will reply.
The series takes them through the Gospel of John in chronological order. It doesn't cover every verse, but those included focus on Jesus to help a believer or nonbeliever know him.
It is written in a way that someone with zero background in Christianity could understand it. That is why it is offered not only on StartingwithGod.com, but also on EveryStudent.com. Many have begun a relationship with Jesus through it!
Here is the signup page: https://www.everystudent.com/knowingGod.html
Sample Excerpt # 1:
In your country you might have certain rights. Like freedom to speak your mind, freedom to worship God, freedom to travel.
Some rights people obtain by studying. The right to practice medicine or law, for example.
John, chapter one, tell us that if we do something, we have the right to become children of God. Maybe you have already done this. Let's see.
Referring to Jesus, John 1:10-13
10 "He came into the very world he created, but the world didn't recognize him. 11 He came to his own people, and even they rejected him.
12 But to all who believed him and accepted him, he gave the right to become children of God.
Q - Do you have the right to consider yourself a child of God? Why? (look at the Scripture above)
A -
Q - Your human birth came from your parents. Where does your spiritual birth come from? (see verse 13 below)
A -
13 They are reborn--not with a physical birth resulting from human passion or plan, but a birth that comes from God."
Excerpt # 2 - John 3:16
16 "For God loved the world so much that he gave his one and only Son, so that everyone who believes in him will not perish but have eternal life."
Please answer the following questions by looking at verse 16:
Q - What was God's motivation?
A -
Q - What action did God take?
A -
Q - Who did he do it for?
A -
Q - What would you gain?
A -
Q - What would you need to do?
A -
Q - If you believe in Jesus, what do you have?
A -
In this gospel, John uses the Greek word, "pisteuo" for "believe."
You will not find the passive noun, "belief" in John's gospel. It is always in verb form. If I'm remembering correctly, Matthew and Mark use it nine times in their gospels, and Luke 10 times. John uses this word 99 times. And it means to fully trust, to fully rely on.
It is more than agreement. It isn't like saying, "Yeah, I believe that plane could get me to Chicago." It is fully trusting. It's where you have to get on the plane.
When we believe in Jesus, we are asking him to enter our lives with an intent to rely on him, as God.
What people have said about this series:
Thank you for the study! I look forward to them and this is the second time I am going through them.
I have not thanked you properly. I requested from you the study of John when I first became a Christian 5 years ago, and it helped me so much in developing my understanding of our Lord Jesus Christ. I have told many about the emails I received from you and highly recommended them.
Loove ur stuff!.,, i find the messages encouraging and fresh. They always seem to show up just when I need them!.. Keep it up!
I would just like to thank you with all my heart for these great lessons you truly have helped me start a relationship with Jesus. I know I'm not where I wanna be, but I am not who I use to be!!
I am an older woman who has just started my relationship with God... I am attending a church and living it. Your emails make it so much easier to understand the Bible and what God is all about. I really didn't know anything!!! Thank you.
tytyty i love this study.
Thank you for sending me the Gospel of John study. I'm planning to offer it as an outreach study for women that are of low income and have poor life skills. My goal is to bring them to relationship with Jesus. I plan on printing everything you send and making copies for the group. Thank you!
starting from a moment, I decided to be God's child. Thanks a lot!
Thank you. l had no idea been a Christian could be this much fun & eye opening....looking forward to learning more.
How to use it:
You can invite people to signup on their own then discuss it in person, or in a Bible study group or in WhatsApp.
You'll find many people from a Christian background who have never looked at the Bible on their own. You can say to them and to Muslims, Hindus, Buddhists, etc., "Every major religion of the world honors Jesus. Would you be curious to learn more about him?"
Tell people that they can quit anytime if they don't like it. Every email will have an unsubscribe link at the bottom. And they can stop receiving app notifications if they want to quit there.
Formats:
By email series: When a person signs up, they get the first email two minutes later. Others come a couple of days apart. It's in multiple languages.
In EveryStudent app. Messages display within the app and come as app notifications. It's in multiple languages.